---
`The ongoing fragmentation of knowledge and resulting chaos in philosophy
are not reflections of the real world but artifacts of scholarship.'
- E.O. Wilson, Consilience: The Unity of Knowledge (1998)
---
WELCOME TO ENCORE, THE ELECTRONIC APPENDIX TO

THE HITCH-HIKER'S
GUIDE TO EVOLUTIONARY
COMPUTATION


A MOSTLY USEFUL COMPENDIUM OF 646 FILES ON THE ART OF EVOLUTIONARY COMPUTATION SUITABLE FOR ALL AGES, PARTICULARLY, BEGINNERS IN THE FIELD, (ALTHOUGH IT HAS BEEN REPORTED TO US THAT EVEN SOME OLD-TIMERS ENJOYED READING IT).

SO, DEAR FELLOW HIKERS, HERE'S YOUR GUIDE,
NO TOWEL, AND SOME FRIENDLY WORDS: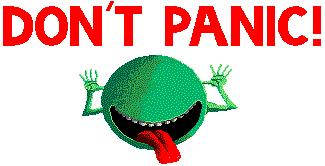 WHAT DO YOU WANT TO LEARN TODAY?(TM)
We're honored. We're humble. We're amused.
---
[Hmm-we're not exactly certain what we have here, maybe we should have asked someone
else to educate our youth? And by the way, who the hell did ask this guy...? -Ed.]
---
PLEASE NOTICE:

THE RECORDING, COPYING, LOAN, UNAUTHORIZED HIRE, PUBLIC SHOWING OR BROADCAST OF THIS DATAGRAM IS STRONGLY ENCOURAGED.
IN THE UNLIKELY EVENT OF ANY PHILOSOPHICAL INTERFERENCE WITH THE CONTENT, LANGUAGE OR STYLE OF PRESENTATION USED IN THIS SERVICE, PLEASE ADJUST YOUR MIND TRACKING CONTROL NOW. THIS WILL, IN MOST CASES, RECTIFY BOTH YOUR VIEWS AND YOUR GUTS.
IF, FOR WHATEVER REASON, YOUR MINDTRACKING DEVICE FAILS, WE RECOMMEND TO PURCHASE A PAIR OF NYET-NYET 2000 PERIL SENSITIVE SUNGLASSES, (NOW IN STORE AT MOST MEGAMARKETS - MANUFACTURED BY SIRIUS CYBERNETICS CORPORATION), BEFORE READING THESE PAGES, AND SUGGEST TO CLICK ON THE PANIC! BUTTON RIGHT NOW...
...IF YOU REALLY WANT TO READ ON (OR JUST CAN'T FIND THE PANIC! BUTTON), WELL, READ ON, RELAX & HAVE FUN.
---
`Indeed, the author firmly believes that the best serious work is also good fun.
We needn't apologize if we enjoy doing research.' -Donald E. Knuth
---
Frequently Asked Questions...
Table of Contents
Last-modified: 01 Mar 99 (646 files+395 hrefs)

---
`Definitions? I hate definitions!' -Benjamin Disraeli

---
What's ENCORE anyway?
What's the use of definitions anyway? A query of Webster's online dictionary about ENCORE gives us the following:
en. core \'a:n-.ko-(*)r, -.ko.(*)r\ n [F, still, again] : a demand for repetition or reappearance made by an audience; also : a further performance in response to such a demand
while the Hitch-Hiker's Guide to Evolutionary Computation is well-known to define ENCORE as:
enc. ore n : the alternate way to spell : sa.-fier ; also : the living proof for the possible creation of infinite knowledge generators
ENCORE n : The EvolutioNary COmputation REpository network ; in part. : a mostly harmless, but mindbogglingly useful network of EClairs and Clife sites for newbies in the field
Ok, we won't get into the details here; they have been given in The Jester's Gauntlet, anyway; (although the monthly download statics tell me that another pamphlet of mine On the Color of Red (A trip through the theory of colors and the way of thinking) was the most read single item from ENCORE for some time...) Just think of ENCORE as a beginner's paradise for those who just found themselves entangled in the mystery struggle to get involved in The Art of Evolutionary Computation.

To explain what all this really means let's start slowly [good -Ed.] with something someone once called the total perspective vortex. This famous vortex is experienced by most hikers, aka students, on their trip across the mind paralysing distance from uninitiatedness to post-PhD wisdom: When they start playing with the accumulated wisdom in the field of their interested, students are endangered to get into a state of mind of total confusion. Douglas Adams has described something like this in "The Restaurant at the End of the Universe", he called the total perspective vortex, on page 59:
"For when you are put into the Vortex you are given just one momentary glimpse of the entire unimaginable infinity of creation, and somewhere in it a tiny little marker, a microscopic little dot, which says `You are here.'"
To prevent you from falling into this vortex, ENCORE will help you to do the following:
Get to know the frequently asked questions (FAQs) on EC; and their respective answers, presented in a mostly entertaining way.
Get familiar with all EC paradigms in an unbiased way; possibly in your own native language (at present: German, English, Greek, and Spanish).
Get "hands-on" experience by using any of the software packages provided.
Get to know where to look for test data servers, that provide you with problem instances needed for comparative studies.
Get the latest call for papers (CFPs); job announcements; or other and projects currently en vogue.
Learn more about the folks who are "in" the field; especially their private side.
Learn more about other related subjects and research fields.
Move on to more specialized repositories maintained by research groups with at least a glimpse of what EC is all about...!
So, you really wanna know what the reviewers said about ENCORE?
---
`All that is worth knowing can be learnt but not necessarily taught' -Oscar Wilde

---
What are those Sections within ENCORE?
ENCORE is highly structured to provide easy access to its 646 files (at present). All main EC paradigms have their own sections:
Classical Paradigms
Other Evolutionary or Genetic Paradigms
Other non-traditional, hybrid or related approaches that make use of genetic paradigms but do not fit in the categories above, like, e.g., some Alife systems, are collected in the Evolutionary Algorithms section:
The Hitch-Hiker's Guide to Evolutionary Computation
The aforementioned mostly entertaining FAQ to the field, i.e., comp.ai.genetic resides here:
The Navigator's Handbook to ENCORE
Naturally, the documentation of ENCORE is included: The Navigator's Handbook to ENCORE gives a gentle introduction to the repository and it's access with traditional, i.e. simple FTP clients and more recent developments, i.e., World-Wide Web clients. An alternate way to get to know the complete contents of an EClair is to download the CONTENTS file. A quick OVERVIEW on all files is also available. Note that the CONTENTS is listed in the appendix to the The Navigator's Handbook to ENCORE (55pp, 183K). You only have to download either of these two. [Hmm-this is becoming increasingly obsolete, why do they still have paperware
documentation for this service online? Anybody any idea? -Ed.]
---
Darwin's Classics
Miscellaneous
---
`The "silly question" is the first intimation of some totally
new development' -Alfred North Whitehead

---
All EClairs & Clife sites at a Glance?
A Map of ENCORE is available as are the individual nodes in the network, i.e., the EClair's in the project's parlance:
How to become an EClair?
If you are interested to set-up another EClair at your place read about the RESOURCES and actions needed.
How to get on the Clife side of Life?
If you cannot afford the megabytes needed to become a full EClair, it might be a good idea to make your World-Wide Web server a Clife site; just take a look at README.clife.
---
`Knowledge is of two kinds. We know a subject ourselves, or we know
where we can find information upon it.' -Samuel Johnson

---
More EC-related World-Wide Web Resources?
Research Groups
Student's Projects
The GA Playground: by Ariel Dolan is a general purpose GA toolkit implemented in Java, designed for experimenting with genetic algorithms and handling optimization problems. New problem definition requires only coding of a fitness function and supplying parameters by an Ascii file (similar to Windows ini file). However, the structure of the progarm is very modular and supports overwriting of any GA operator or function, if required. The GA Playground is primarily designed to be used as an application and not as an applet, since it requires re-compiling of at least one function (the fitness function) and the use of local file I/O. In addition, it is a little heavy as an applet. However, although its use as an applet does not enable defining new problems (new fitness functions), it enables extensive playing with many variations of already defined problems. Currently the applet includes TSP problems, Knapsack problems (Both single and multiple), Bin packing problems, Facility allocation problems, Real function optimization, Multi-Modal function optimization.
GEARS: The Genetic Algorithms Research Students mailing list's archive at UUNET Deutschland GmbH, Dortmund, Germany.
To subscribe to GEARS send email to: gears-request@research.de.uu.net
Nova Genetica: A Compendium of useful GA links by Darin R. Molnar, at Portland State University, OR, USA.
RARS: The Robot Auto Racing Simulation's FTP archive at University of Birmingham, UK.
Test Data Servers
---
`...it doesn't matter how beautiful your theory is, it doesn't matter how smart you are
- if it doesn't agree with experiment, it's wrong.' -Richard P. Feynman

---
Other Related Resources?
Artificial Intelligence
Artificial Life
MIT Press/Alife Online at The Santa Fe Institute, MN, USA.
The Avida Artificial Life group headed by Chris Adami at The California Institute of Technology, CA, USA.
Artificial Life in Germany an overview by Matthias Oliver Berger and Olaf Kubitz at RWTH, Aachen, Germany.
The Artificial Life FAQ maintained by C. Titus Brown at The California Institute of Technology, CA, USA.
Artificial Life: The Quest for a New Creation by Stephen Levy.
Artificial-Life Simulators and their Applications by Howard Gutowitz. [This is a report written for the French government. It is intended as both a critical overview of the field of Artificial Life and as a resource guide. It contains an extensive bibliography on Alife simulators, autonomous agents, neural nets, genetic algorithms, and the like. FTP and WWW sites are emphasized. There is a list of Alife research groups as well. -hag. [it misses a link to ENCORE, though -Ed.]]
The Alife library maintained by Patrick Tufts.
The Live Artificial Life Page by Robert Silverman.
Where to get a doctorate in Artificial Life or related areas? by Ben Marcotte.
The Tierra Working Group Report (contains information on the Tierra Network Initiative) maintained by Titus Brown.
ZOOland "The Artificial Life Resource" maintained by Jörg Heitkötter. (Zooland Europe, & Zooland USA)
G.R.A.L. The Research Group on Artificial Life at National Research Council, Institute of Psychology, Rome, Italy.
Newsgroup(s): comp.ai.alife
Biology-related Resources
The Computational Beauty of Nature by Gary W. Flake, published by MIT Press.
The Bioinfo Gopher, and the Bioinfo FTP site maintained by Tom Schneider at The National Cancer Institute, MA, USA.
The Biologie: The Great Biological Addable Link Collection
A Biologist's Guide to Internet resources written by Una Smith at Yale University, CT, USA.
L-System Software maintained by Mark S. Hammel at The University of Calgary, CAN.
The Bioinformatics Server maintained by David G. Greene at Australian National University, Canberra, Australia.
IBM Jena maintained by Institut für Molekulare Bioltechnologie at The University of Jena, Germany.
Newsgroup(s): sci.bio.evolution, bionet.info-theory, de.sci.biologie
Cellular Automata
Fuzzy Systems
Nanotechnology
Neural Networks
Operations Research, Applied Mathematics & Game Theory
The Knot System: Growing availability of advanced genetics computer programs and large lineage linked databases, increases the probability of geneticists having to deal with very complex relationships. This makes a standardized way of communicating such types of blood relationships more and more obligatory. The Knot System is probably the first notation which scientifically correct can document blood relationships of any complexity and of unlimited generation depth, developed by Knud Højrup.
Game Theory Resources on the Net at University of Arizona, AZ, USA.
Operations Research Resources World-wide at Carnegie Mellon University, PA, USA.
Bibliography for Discrete Event Systems Simulation: Optimization and Sensitivity Analysis at University of Baltimore, MD, USA.
CPLEX Optimization, Inc.'s Webserver.
Tabu Search & friends at The University of Trento, Italy.
Global (and Local) Optimization at The University of Vienna, Austria.
INFORMS Online The ACI is a collection of bibliographic references going back to 1982. It includes references to all papers in ORSA/TIMS journals from 1982-1987 and references from about 150 operations research journals from 1988 through 1993. The papers are indexed to reviews in the International Abstracts in Operations Research journal.
The Chaos Bibliography maintained by Peter E. Beckmann at The University of Mainz, Germany.
The Vehicle Routing Problem maintained by Tim Duncan at AI Applications Institute, University of Edinburgh, UK.
Linear Programming FAQ, and Nonlinear Programming FAQ, maintained by Robert Fourer at the Optimization Technology Center of Argonne National Laboratory and Northwestern University, USA.
Newsgroup(s): sci.op-research, sci.math.num-analysis, sci.nonlinear, sci.fractals, comp.constraints
Other Archives & Online Journals
Simulated Annealing & other Physics-inspired methods
Art, Games & Videos
Commercial Sites
---
`The stars get their brightness from the surrounding dark.' -Dante

---
Who is...?
Ok. This section is far from complete. But anyway, those affiliated with Evolutionary Computation, Artificial Life or other Complex Systems Sciences that have a so-called "personal homepage" installed shall be listed here:
---
`Do not seek to follow in the footsteps of the wise.
Seek what they sought.' -Basho

---
Acknowledgements, Credits & all the Fish
Thanks to all those who contributed to this endeavour (a list of all these friendly folks is available in the THANKS file from any EClair); however, some special thanks must be acknowledged, particularly to the British Broadcasting Corporation (BBC); without their introductory technobabble on the "THE MAKING OF THE HITCH-HIKER'S GUIDE TO THE GALAXY" video tape, (that instructs you to adjust the tracking control of your VCR in case "THE FOLLOWING VIDEOGRAM DISPLAYS LOW QUALITY"), I wouldn't have come up with the intro I used above.

And of course to (Dr) David Beasley, my virtual friend and companion in my madness (over the past 3 years), who likes to get lost during his trips from A to B, (where A is a city in the United Kingdom and B a city in the Ruhrgebiet, namely Dortmund), for taking over the FAQ work, thus allowing me to create ENCORE and fool around with these new information gathering & presentation technologies. (He also contributed much of the saner parts of the Guide, leaving the insane parts for me, something that I always wanted to thank him for...) And (Dr) JJ Merelo Guervos, ``The Jester's patcher''. Thanx!
The concept behind The Hitch-Hiker's Guide to Evolutionary Computation & ENCORE is a cross, i.e., my own interpretation of the educational concepts developed by scholars like Charles Lutwidge Dodgson, Edwin Abbott Abbott, Jean Piaget, Alan Kay, Seymor Papert, Donald Knuth, Gregory Rawlins, and others that focus on individualized, hands-on learning; education by entertainment, or funderstanding and guided discovery of information that's mixed with annotated plays for intellectual refreshment during the journey - but if the things I created can really live up to these concepts is on you to decide; your comments are welcome.

"The overall design of this page owes much to the music I've been listening to, while hackin' the HTML code. Notably U2's Zooropa & some LOUD stuff from the Seattle area, that goes like this... "I'm worse at what I do best and for this gift I feel blessed, I found it hard, it's hard to find, well, whatever, nevermind."
Again, this is for YOU, and to all those oppose!!" ;-)

... towel not included!
Copyright © 1995-1999 Jörg Heitkötter. All rights reserved.
If you find bugs in this service, please inform joke@de.uu.net
Please refer to the ENCORE disclaimers!
Available from the same author:
Bookland * Heartland * Surfland * Webland * Zooland
---
`The real voyage of discovery consists not in seeking new landscapes
but in having new eyes.' -Marcel Proust
---